OTHER GARDEN PLANTS
W inter is the dormant season, but it doesn't have to be drab and dull. Along with our camellias, Loch Laurel Nursery carries a novel line of winter-blooming companion plants, specially selected for gardens in Camellia planting zones.
Quantities are limited: Call or email the nursery for pricing and availability.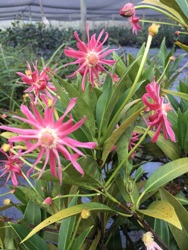 Anise 'Woodland Ruby' - Illicium mexicanum X flordanum alba - Evergreen shrub with aromatic foliage has ruby-pink starfish-like flowers which are larger than either parent and on long stems extending out from the foliage. It blooms over an extended period from May until frost. A Woodlanders Nursery introduction - Out of Stock.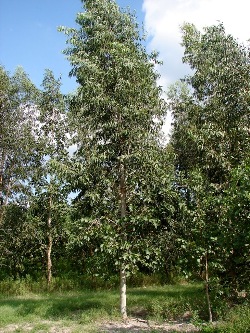 Eucalyptus amplifolia - A beautiful large growing eucalyptus to 100 ft with evergreen apple-green leaves. Trees grow tall and slender and provide the perfect dappled shade for camellias where it can be grown in USDA Zone 8b. Provides a good substitute for pines with deep non-competing roots. A great tree primarily used in forest plantations for pulp and biofuel. Used in Australia for honey production.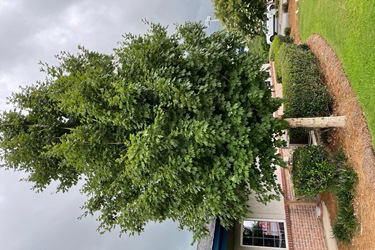 Mexican Mountain Sugar Maple - Acer skutchii - The tree is similar in many respects to Acer saccharum, sugar maple, and Acer saccharum var. floridanum (syn. A. barbatum), the Florida maple, but features larger leaves, and perhaps the biggest samaras found in Aceraceae. The skutch maple offers opportunities for enhanced growth rate, interesting fall and spring foliage color, alkalinity tolerance, drought tolerance and good adaptation to well drained sunny locations in landscapes of the southern USA, east to west. Grows very well in areas with reflected heat like parking lots.
Bigleaf Magnolia - Magnolia macrophylla - his deciduous magnolia is noted for its huge oblong-obovate leaves (to 30 inches long) which are the largest simple leaves of any tree indigenous to North America. Leaves are green above and silvery-gray below. This unusual tree is rarely found in the wild, being limited mainly to a few rich wooded areas in river valleys and ravines in the southeastern United States. It is a pyramidal tree that develops a spreading rounded crown with age, typically growing 30-40' tall. Showy fragrant flowers are white with rose-purple at the petal bases. Adds a tropical look to your garden due to the large leaves.