W

inter is the dormant season, but it doesn't have to be drab and dull. Along with our camellias, Loch Laurel Nursery carries a novel line of winter-blooming companion plants, specially sele cted for gardens in Camellia planting zones.
Quantities are limited: Call or email the nursery for pricing and availability.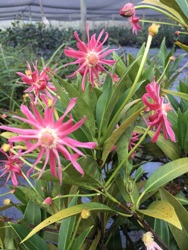 Anise 'Woodland Ruby' - Illicium mexicanum X flordanum alba - Evergreen shrub with aromatic foliage has ruby-pink starfish-like flowers which are larger than either parent and on long stems extending out from the foliage. It blooms over an extended period from May until frost. A Woodlanders Nursery introduction.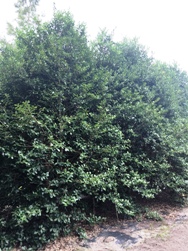 Holly 'Emily Brunner' - Ilex 'Emily Brunner' - Emily Brunner is a hybrid between I. latifolia and I. cornuta with an upright to columnar growth habit. It maintains the dense growth habit and the light-green foliage typical of the Chinese Holly with little pruning. The showy yellow flowers are unusually striking for a holly plant. A row of Emily Brunner Holly makes one of the best screens available. Its tight growth habit, even in partial shade, makes it nice along the border of a property to provide protection from the wind. An excellent pollinator plant for bees.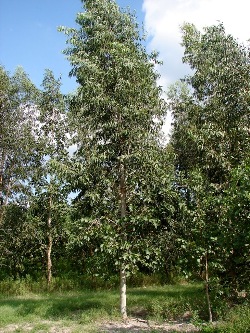 'Hohman Holly' - Ilex x koehneana 'Hohman' A hybrid between Ilex aquifolium and Ilex latifolia. This holly has very dark green foliage with vivid red fruit. Maintains an upright pyramidal growth habit.
Eucalyptus amplifolia - A beautiful large growing eucalyptus to 100 ft with evergreen apple-green leaves. Trees grow tall and slender and provide the perfect dappled shade for camellias where it can be grown in USDA Zone 8b. Provides a good substitute for pines with deep non-competing roots. A great tree primarily used in forest plantations for pulp and biofuel. Used in Australia for honey production.
Acer oliverianum ssp. formosanum - Chinese Maple or Oliver's Maple. A rare maple native to China that has palmate leaves very similar to Japanese maples. Heat tolerant and fast growing with attractive orange and red foliage in the fall.