OTHER GARDEN PLANTS
W inter is the dormant season, but it doesn't have to be drab and dull. Along with our camellias, Loch Laurel Nursery carries a novel line of winter-blooming companion plants, specially selected for gardens in Camellia planting zones.
Quantities are limited: Call or email the nursery for pricing and availability.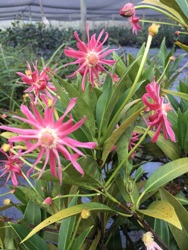 Anise 'Woodland Ruby' - Illicium mexicanum X flordanum alba - Evergreen shrub with aromatic foliage has ruby-pink starfish-like flowers which are larger than either parent and on long stems extending out from the foliage. It blooms over an extended period from May until frost. A Woodlanders Nursery introduction - Out of Stock.